How God Made You
Time for another installment in the series of book reviews which I call "Books That are not Worth Reviewing" – This time, it's How God Made You – a Catholic children's book from 1960, written by psychiatrist Robert Odenwald and illustrated by Mary Reed Newland.
I hesitated for some time before writing this review, although it definitely meets the requirements of a Book Not Worth Reviewing. Mostly I felt the need to be sensitive about faith – I was raised Catholic, and while I'm not one anymore, I know plenty of people for whom faith is very important.
Then one day, a leading candidate for the Presidency of the United States insulted forty-five million Protestants.
I decided at that point that I was probably over-thinking this, and that it was probably okay to critically review a book of Catholic dogma. So I finished my work and here it is.
There's long history of art tied to spirituality and the religious experience. In the western world this is mostly based on Christianity, and historically this means a lot of art by Catholics, based on their faith. There's no shortage of awesome art out there.
And then, there's How God Made You. This book is targeted at young children. It was written by a Catholic psychiatrist and illustrated by a writer of Catholic books for children and adults alike. The process was overseen by a supposedly gay cardinal. It does not meet any of the definitions of great art, or even of memorable art.
Robert Odenwald
The author of the book was Catholic psychiatrist Robert Odenwald. His 1952 book Psychiatry and Catholicism got a mention in a Time article called Psychiatry for Catholics. In the 1950s, it was an open question whether it was okay for Catholics to engage in psychotherapy, since the Church claims the ultimate responsibility to care for the souls of its parishioners. Pope Pius XII addressed the Fifth International Congress on Psychotherapy and Clinical Psychology on April 13, 1953 to settle the issue in the favor of psychology. I was surprised to learn that this was ever a problem.
The book was published by PJ Kenedy and Sons, publishers of the Official Catholic Directory, and it seems like Odenwald may have had an agreement to write a series of books for them, because he also wrote How You Were Born and Your child's world from infancy through adolescence.
Odenwald also wrote The Disappearing Sexes in 1965, a year before he died. Here's a Kirkus review of it: > Dr. Odenwald, a psychiatrist (Your Child's World- 1958) deplores the fact that the Vive la Difference between the sexes is not only dying out but destroying the general structure of family and morality. Certain aspects of the equalization of the sexes are to be observed through the dominance of the female, the disappearance of the male and the prevalence of the homosexual. Women, not so much working as earning more money; the pill and the new sexual freedom (we feel he overvalues the effect of the pill as a liberating influence); etc. are part of this talk-think piece. Sometimes the think aspects seem controvertible: do parents really want children as a status symbol in more cases than realized? does "more often" than admitted, a working mother take a job to "improve her bargaining position" at home? is the "unpopularity of breast feeding" (what supports this contention?) a sign of the new defeminization? Dr. Odenwald draws much of his material from currently popular literature, Vance Packard, Jeff Stearn, Betty Friedan as well as his own consultation room and most of these charges against the whole laxity of our culture, the stridency of the female, the slackness of the male, have been leveled before. In any case, it's a rebuttal of the mystique.
Obviously, this book was written a long time ago, but you can see the mindset at work here – a resistance to change, to feminism, and to the equality of sexes, all wrapped up with a compelling title. Of course, you would expect that from an observant Catholic of the time who had a contract to write dogmatic books. And many of the themes of The Disappearing Sexes are clearly echoed in How God Made You.
Mary Reed Newland
The book is illustrated by Mary Reed Newland, and although the art is not great, everything I've read about her suggests that she was a very nice and well-respected person. She spent most of her life in Monson, MA, a town not too far from where I live, which is probably how a signed copy of this book ended up in a local library book sale a few years ago. She also wrote a history of Monson, and apparently spent a lot of time reading to children at their local library. She passed away in 1989.
If you spend time searching, you'll mostly find mentions of her books, or of speeches she gave to different communities about faith. Newland wrote over a dozen books, almost all about Catholic doctrine or the stories of the Old Testament. Her two most famous books are How to Raise Good Catholic Children, and The Year and Our Children: Catholic Family Celebrations for Every Season, both of which are still in print. She also wrote The Saints and Our Children – here's an excerpt from that book.
There's also a bunch of copies of a story she wrote about Halloween in Catholic history. Which seems like a fairly hilarious attempt to co-opt the day for her faith, but it's an interesting essay.
While searching, I also found several blog posts from random people talking about her positive influence in their life. I ended up feeling like she was a very nice woman who is really bad at illustrating – but more on that later.
Cardinal Francis Spellman
This book, like many books about Catholic dogma, has a 'Nihil Obstat' and 'Imprimatur'
The "Nihil Obstat" and "Imprimatur" are official declarations that a book or pamphlet is free of doctrinal or moral error. No implication is contained therein that those who have granted the Nihil Obstat and the Imprimatur agree with the content, opinions or statements expressed.
In the Catholic Church an imprimatur is an official declaration by a Church authority that a book or other printed work may be published.
The person in charge of issuing the imprimatur is the 'Censor Librorum'
In the Roman Catholic Church, the Censor Librorum is an ecclesiastical authority charged with reviewing texts and granting the nihil obstat. The Latin Censor Librorum translates as "censor of books." While the title may suggest the function of suppressing books critical or otherwise unpopular with the Church, this is not the function of the Censor Librorum. Rather, it is the responsibility of the Censor Librorum to review texts for doctrinal accuracy. A text that is doctrinally correct (that is, does not contain any statements that contradict Church doctrine) but portrays the Church or Church officials in a negative manner must still be granted the nihil obstat.
For this book, the Censor Librorum was Cardinal Francis Spellman, Archbishop of New York and sometimes referred to as the Pope of the USA. He is probably the first person I've mentioned in a book review who has an FBI file.
There's a lot of crazy articles out there on Cardinal Spellman. The most notorious article, "Cardinal Spellman's Dark Legacy" was published by Michelangelo Signorile in 2002. In it, he calls Spellman "one of the most notorious, powerful and sexually voracious homosexuals in the American Catholic Church's history". Is that true? I have no idea. No one in the church has ever gone on the record about this, and there's no real evidence to support it other than secondhand stories. However, there are a lot of those sorts of stories.
Spellman was a strong supporter of US involvement in the Vietnam War – he advocated for involvement in the 50s. He was such a hawk that he apparently baptized bombers, and at a prayer breakfast at the White House, he encouraged LBJ to "just bomb them". His hawkishness was so out of step with the Vatican that he was chastised by the pope. His attitude about Vietnam was caricatured by artist Edward Sorel: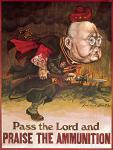 However, that poster wasn't published when it was made in 1967, because Spellman died just as it was finished, and Sorel decided it wasn't appropriate to publish it.
The Book
The text of this book can be summed up in a few sentences: "Hey kid, would you like to know how you were made. Well, God did it, through your parents. Nice, eh?"
But this book is really about the illustrations – the horrible, horrible illustrations. Many of them are woodcuts, which is undoubtedly a very demanding art form. But not all of the illustrations are woodcuts – some are simple drawings, there are lots of weird patterns and backgrounds and style shifts.
The worst thing is hands – they are terrible!
There's also some really weird poses here and there:
My favorite illustration is this progression of people – children at the bottom, high-ranking clergy at the top – but what's the SCUBA diver doing here? And why do clowns rank higher than nuns? That's fucked up.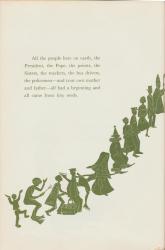 Also, speaking of hands, Mr SCUBA appears to have some sort of lobster claws for appendages.
Of course, some of the illustrations are quite nice. Here's one more or less dedicated to inquisitive children wondering about the stars: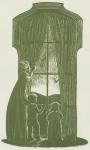 When reading the text, it's clear that this book expects as little thought as possible from the reader. It starts with a basic summary of straightforward Catholic dogma, with the description of all life coming from seeds. God created everything. He made the universe, then plants, then animals, and he did it all for people. Then, he made Adam and Eve, and they made babies. Then those people had babies, etc, etc, until there's a lot of people here. All those people can someday be happy with God in heaven. So, it's the standard story of Creation.
After this comes the "hey, children are curious about stuff" section. "You wanted to know about the sun and stars", etc. Now, you probably want to know about where you came from. The book continues the seed analogy – you were a tiny seed, carried inside your mother's body "under her heart". Look, here's a picture of what that tiny seed looked like when it was in your mom: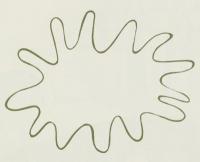 OK THEN.
While you were growing, your parents picked your name from their list of favorite saints. Oh, and your dad made you a bassinet. People were happy when you were born, and after a few weeks you were baptized.
But, backing up, I hope to hell your parents were married!
Obviously, there's nothing here you wouldn't expect out of a book of this nature – after all, if this book was published today it would probably look almost exactly the same. But there's some odd things as well. The book insists that:
You were probably born in a hospital as many babies are. A hospital is the best place for a mother and a new baby. In a hospital they have all the comforts they need.
Was there a crusade against hospital births in the 1950s? If so, it's news to me. Then, there's a similar admonition about how mothers should breastfeed their children. This is actually a very interesting page: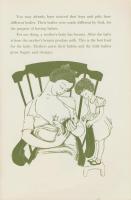 You may already have noticed that boys and girls have different bodies. Their bodies were made different by God, for the purpose of having babies.
(emphasis mine)
Does the author assume that only boys are reading this book? Are girls reading the book, but are automatically second-class citizens? There's no indications anywhere in this book that it is only for boys. In fact, in other places it talks about growing up to become mothers or fathers. This is all about defining roles – mothers should stay at home and feed their children, because God says so. This page also relates directly to Odenwald's later book about how feminism is destroying America.
There's also this earlier page about gender roles: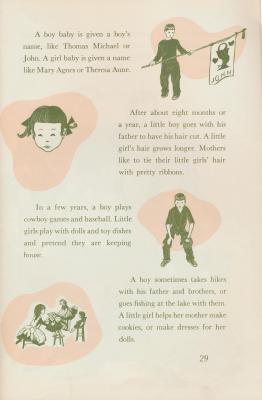 I'm sure that most of this page was basically true at the time, but it must have felt strange to read this book if your life deviated at all from the apparent norm. In fact, this book is full of awkward pictures of white people who follow very traditional roles in every way. And it is those roles, and not some notion of 'how God made you' that resonate throughout the text. This book is a perfect example of where Catholicism (and society as a whole in America) was in the 1950s – stuck between the traditional roles of the past and the modernization that was inevitable.
Anyway, I scanned the whole book, so here it is for your enjoyment:
If a copyright holder has a problem with that, please let me know and I'll take it down.